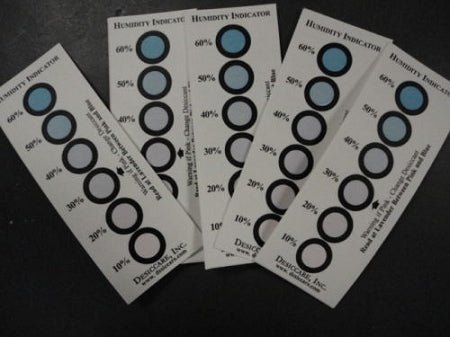 Desiccare Six Dot Humidity Indicator Cards (10% - 60%) 10-Box
Desiccare's Humidity Indicating Cards are the most accurate cards available in the market today. They are often used in conjunction with a desiccant and a moisture barrier bag when shipping electronic components.10%, 20%, 30%, 40%, 50%, 60%

These ship from the factory as shown with a 30-40% humidity level. Simply blow dry them carefully to get them to all blue than put them inside whatever you want to read the level and decide how much absorbent material you need.

Benefits

1. Indicate humidity conditions in various types of barrier packaging
2. Often used in conjunction with a desiccant
3. Allow instant visual verification of product integrity
4. Approved for MIL – I – 8835 applications
5. Low cost and reusable , simply blow dry them to get back to all blue dots
6. Spots turn fr om blue to pink to indicate humidity levels

Moisture is the worst thing that can affect electronics by damaging the way they function or lead to some irreversible glitches in electronic components. Moisture also leads to other problems such as rust and accumulation of dust, which can affect the performance of any electronic items.

While the problem is serious, the solution is rather simple - placing a desiccant with your electronics will protect your products against moisture. There are some crucial electronic items, such as, semiconductors, circuit board and several other photo-electronic components that are vulnerable to moisture. Keeping electronic items away from humidity and moisture can help increase their life span. Use Desiccare's Humidity Indicating Cards to accurately quantify relative humidity levels and help protect your products against moisture problems.